SmartLink Online Banking! Enroll Instantly!
SmartLink Online Banking is a streamlined interface to improve your online banking experience. Some of the features include:
A streamlined interface to make it easier to navigate the system and perform transactions.
Responsive design to improve the experience on tablets and mobile devices.
Simplified menu options, with options to perform many tasks directly from the home screen.
And once you are logged in, you can easily enroll in additional digital banking services! (Alerts, Bill Payment, Credit Score and Open a New Checking or Savings Account)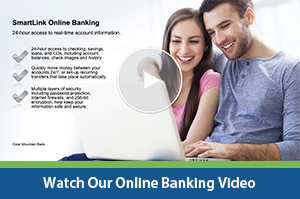 Click here to read an overview of the SmartLink system with screenshots
Providing 24-hour access to account information from the convenience of your personal computer. SmartLink® is convenient, easy to use, and more secure than ever. With SmartLink Online Banking, you have 24-hour access to account information from the convenience of your personal computer. Check account balances, transfer funds, view account statements, read eStatements, pay bills and much more. And best of all, it's free! With SmartLink, you'll be able to:
Check all your account balances, pay bills and make transfers right from the Home Page.
Track your expenses in an easy-to-read pie chart — so you can see where your money is going at a glance.
View real-time account balances, check images and history.
Access your checking, savings, loans and CD accounts 24 hours a day.
Export transactions history to financial software or spreadsheets.
Transfer funds between accounts.
Receive eStatements.
If you aren't currently signed up for SmartLink and would like to enroll, please click here to complete our online form. Or, if you prefer, you can complete this application (PDF file) and drop it off at any Clear Mountain Bank location.